R.E in School
Here at Cleadon Church of England Academy we feel that it is extremely important to develop children's spiritual, moral, social and cultural identities. We have a strong Christian ethos which we feel is reflected in many aspects of school life. Children also have the opportunity to explore other faiths and cultures. R.E is a vital element in the schools enhancement of its Christian character. Worship is at the heart of our school and the children speak positively about the impact that this has on their lives. During an inspection by the Durham Diocese, one grandparent commented that the atmosphere at school is "like the open arms of Jesus welcoming you".
Dr Rowan Williams (prior Archbishop of Canterbury) explains that the ethos of church schools runs deep: "A Christian school is one in which the atmosphere has that kind of openness about it, that sense that people are worth spending time with, that people need time to grow, need loving attention. The Christian Gospel says that every person has a unique task to do, with God, and for God, whether they know it or not."It doesn't necessarily mean than everyone involved has to share the same theology or philosophy. It doesn't mean that everyone knows that they have this relationship with God, and is consciously working at it. But a Christian school is one in which the entire atmosphere is pervaded by the conviction that there is something mysterious, and potentially wonderful, in everybody."
Here at Cleadon Church of England Academy we are proud of our Christian Values and strive to be the best young people we can be.

The Good Shepherd
This week, in Bible Study Group, we explored the parable of The Good Shepherd who takes responsibility for all his sheep. We understood how the Good Shepherd's actions reflect God who loves and takes care of all people. We also discussed how we demonstrate responsibility in different ways in our lives. Janet and Caroline were very impressed with our thoughts and ideas.
Bible Group
This week, our Y1 and 2 Bible Study group explored the themes found in Daniel and the Lions' Den. Anne and Robina were very impressed with our understanding of courage, bravery and perseverance and how we were able to relate these themes to our own lives. We had great fun creating and wearing our lion masks too.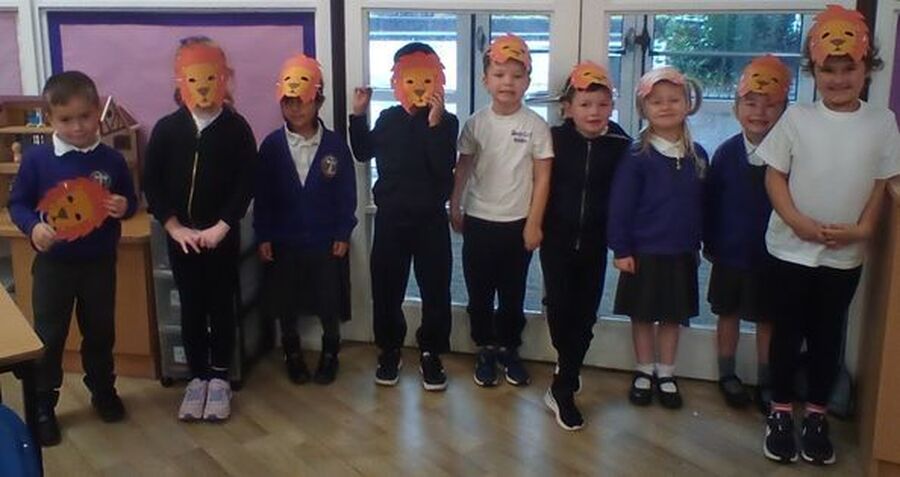 Experiance Harvest
Last week Years 3 and 4 visited All Saints Church for Experience Harvest. The children took part in different practical activities linked to harvest. It was a lovely afternoon where we all learned something new. A huge thank you to all of the volunteers who have up their free time to help us learn in such a fun and interesting way.
Bible Study
Janet and Marie from All Saints Church led a Bible Study session with a group of Year 1 and 2 children. To begin the session the children were challenged to show perseverance by working together to solve a fun problem before Janet shared a Bible story called The Lost Coin. The children then discussed how the main character had shown perseverance just as they had. They then discussed how Jesus encourages us all to show perseverance in all that we do. At the end of the session Marie and Janet gave everyone a special silver coin keepsake.
Visit from Zaf
Year 2 enjoyed a visit by Zaf from the Masjid e Anwaar e Madinah, Sunderland. He told us lots of interesting facts about Islam and we shared our knowledge with him. Zaf had prepared a fun quiz for us and he was very impressed with our answers.
Pentecost
The children in Year 3 have enjoyed a trip to church this week to take part in the Pentecost experience. They visited different stations, learning about and giving thought to Pentecost and the coming of the Holy Spirit.
Our Prayer Tree
This term our Prayer Tree is dedicated to King Charles. Our Year 6 children created some God's Eyes to decorate our tree.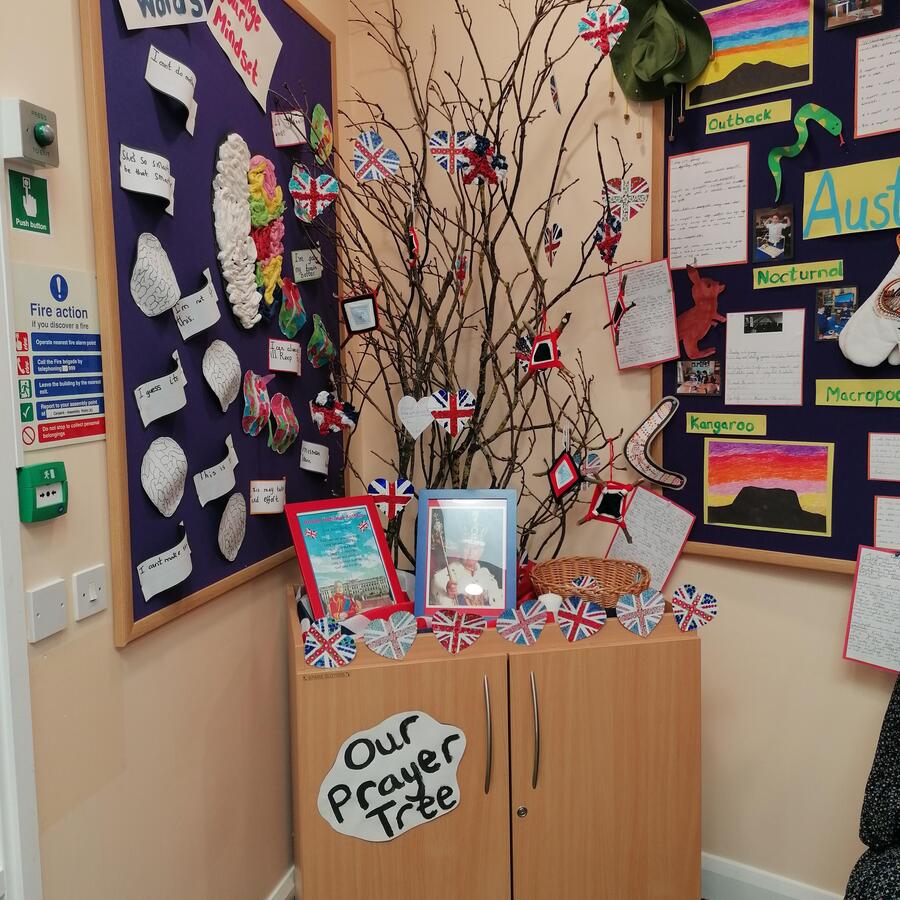 Judaism Inspired Art
The children in Year One enjoyed an art session led by a visiting artist. They created artwork inspired by the Star of David. The children thoroughly enjoyed the session and were very pleased with their work.
Wordle
The children in Year 5 have been thinking about how it must have felt to be a Hebrew slave.
The Last Supper
The children in Year 4 thought about the thoughts and feelings of Jesus and his Disciples. as they took part in the Last Supper.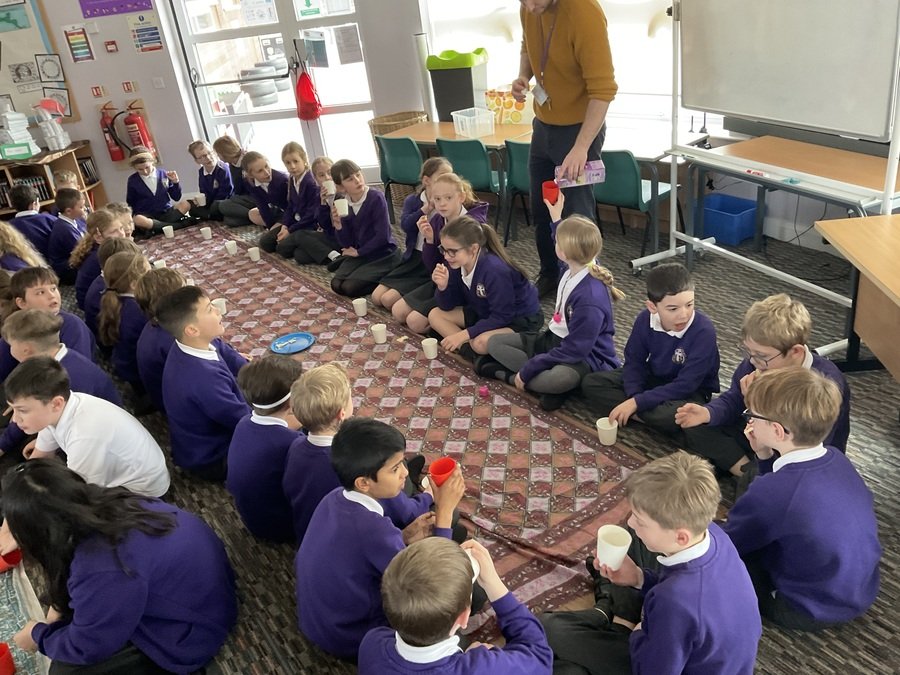 Stained Glass Windows
Year 2 worked really hard to create these fantastic stained glass window pictures. Each one tells a story from the Bible.
Christmas Experience
Year 4 joined the congregation of all Saints Church for a Christmas Experience. The children moved around each station building up the story of the Birth of Jesus as they went.
Prayer Space Big Dreams
What are your BIG dreams?
What would you like to do with your life?
What would you like to achieve?
Where would you like to go?
Who would you like to be?
Sometimes, it's hard to dream BIG because we feel small and unimportant. But, BIG dreams can change the world.
If you want to, you can write or draw a BIG dream onto a cloud-shape and stick it onto the cloud with everyone else's.
"May he give you the desire of your heart and make all your plans succeed."
Psalm 20:4
Diwali
Our Reception children have been learning all about Diwali.
Reception visit to Church
In November, Reception children went to visit All Saints Church for a special purpose. They took their new baby dolls to church for a Baptism ceremony. Reverend Vernon baptised Jessica Rose and Noah James. Four sets of Godparents were chosen who promised to take care of the babies. The children enjoyed this experience and have all promised to look after Jessica and Noah.
Work with All Saints' Church
On Monday evening, staff enjoyed the chance to spend a staff meeting at Church. They met parishioners and had a tour of the church learning about its history and importance to the Cleadon community. We are looking forward to further developing links with the Church in the future.
Prayers for Queen Elizabeth
Prayer Spaces Transformation
Changes happen all the time. Some people like change. Some people don't like change.
Some people feel excited and others feel worried. It's OK to feel both.
If a caterpillar doesn't change, it will never become a butterfly.
Chose one of the paper butterflies. Write or draw something that you have really enjoyed last school year onto one of the wings. On the other write or draw something you are looking forward to this year.
For I know the plans I have for you," declares the LORD, "plans to prosper you and not to harm you, plans to give you hope and a future. Then you will call on me and come and pray to me, and I will listen to you. You will seek me and find me when you seek me with all your heart.
Jeremiah 29:11-13
Prayer Spaces
Prayer spaces enable children and young people, of all faiths and none, to explore life's questions, spirituality and faith in a safe, creative and interactive way. Each classroom has its own Prayer Space.
Easter Worship
The children in Key Stage 2 visited Church for their Easter Service. It was lovely to all be back together in Church with wonderful singing from all of the children. A special mention has to go to the Choir who performed exceptionally well in front of everyone.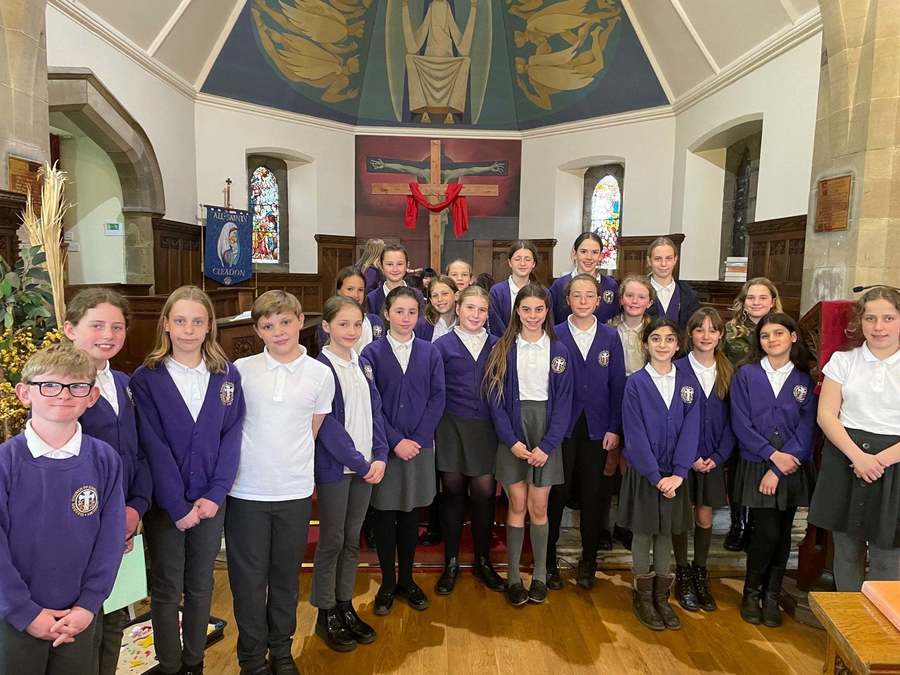 Year 3 joined members of the All Saints congregation for an Easter experience.
Prayers for the Ukraine
We live in a beautiful but troubled world. This week we send prayers to the people of the Ukraine.
This Prayer Space activity helps pupils to pray for the people who are risking their lives to offer help, support and protection in Ukraine e.g. medical staff, counsellors and carers, charity workers and other volunteers. This resource can be used at home or in schools.
Our Prayer Wall!
Children and staff are welcome to share their thoughts, feelings and prayers on our Prayer Wall. Some of our Year 6 children used it today, saying " Its a nice way to express how we are feeling."
Learning About Other Faiths
Here at school we enjoy learning about lots of different religions, including Islam, Hinduism, Buddhism, Sikhism and Judaism.
Our Spiritual Education
As you move around our school you will see many examples of our spirituality in classroom displays, Prayer Spaces and Reflection Areas. Please take some time to look through through our photographs.