R.E in School
Here at Cleadon Church of England Academy we feel that it is extremely important to develop children's spiritual, moral, social and cultural identities. We have a strong Christian ethos which we feel is reflected in many aspects of school life. Children also have the opportunity to explore other faiths and cultures. R.E is a vital element in the schools enhancement of its Christian character. Worship is at the heart of our school and the children speak positively about the impact that this has on their lives. During an inspection by the Durham Diocese, one grandparent commented that the atmosphere at school is "like the open arms of Jesus welcoming you". This page is dedicated to the aspects of R.E you will find around school.

Each year our school is invited to join other church schools at a Year 6 Leavers' service at Durham Cathedral. This year this has not been possible. The diocese decided that the leavers of 2020 should not miss out so they took part in a virtual 'Moving On' leavers' service, either in school or at home. Click the picture below to view the service.
Our EYFS children learned the story behind the Christingle. They even performed a lovely song.
Our harvest celebration told the story of Johnny Appleseed. The children gave thanks for the harvest in a series of prayers and songs of worship.
Here at school we enjoy learning about lots of different religions, including Islam, Hinduism, Buddhism, Sikhism and Judaism.
Years 3 and 4 visited our church for The Easter Experience. The children loved hearing the story taking part in the activities. We would like to say a big "Thank You" to the volunteers from the congregation.
Year 1 have been thinking about the Easter story. Each group created a tableau showing the key parts of the story including The Last Supper, Jesus Washing the Disciples' Feet, the Garden of Gethsemane, The Arrest of Jesus and The Crucifiction.
From the 11th to the 15th of February Cleadon Church of England Academy was host to The Knitted Bible. The display was created by the congregation of St George's URC in Hartlepool and contains 33 knitted scenes depicting some of our best-known Bible stories.
Our children loved taking part in the Knitted Bible trail which encouraged them to spot key elements in the scenes and to reflect on the meaning of the stories. Every year group from Nursery to Year 6 took part in this activity and we received lots of very positive feedback on their experience.
As well as our school staff, parents and children we extended an invitation to local schools and church groups. The event was even covered by our local newspaper. Click here to go to read the article.
Click the figures below to visit our Gallery Page.
In December both Key Stage 1 and Kay Stage 2 presented a Nativity. Click the picture below to look at the pictures and hear some of our Christmas songs.
This year saw 100 years since the end of World War 1. Here at school we planed a range of events and act of worship to remember, and give thanks to those who died in war. Click the poppy below to read all about our Remembrance Day Prayer Spaces.

In October we gave thanks for the harvest. The Year 2 children told a lovely story about where in the world our food comes from and lead us in prayer to thank God for all the good things we have to eat. Our collection for Hebburn Helps and Hope and Hospitality was very successful and we would like to thank all the parents and children who donated to this very important cause. Through actionaid also sponsor a child from India called Ashrita. Some of the money donated at our harvest events goes to help her to lead a happier and healthier life.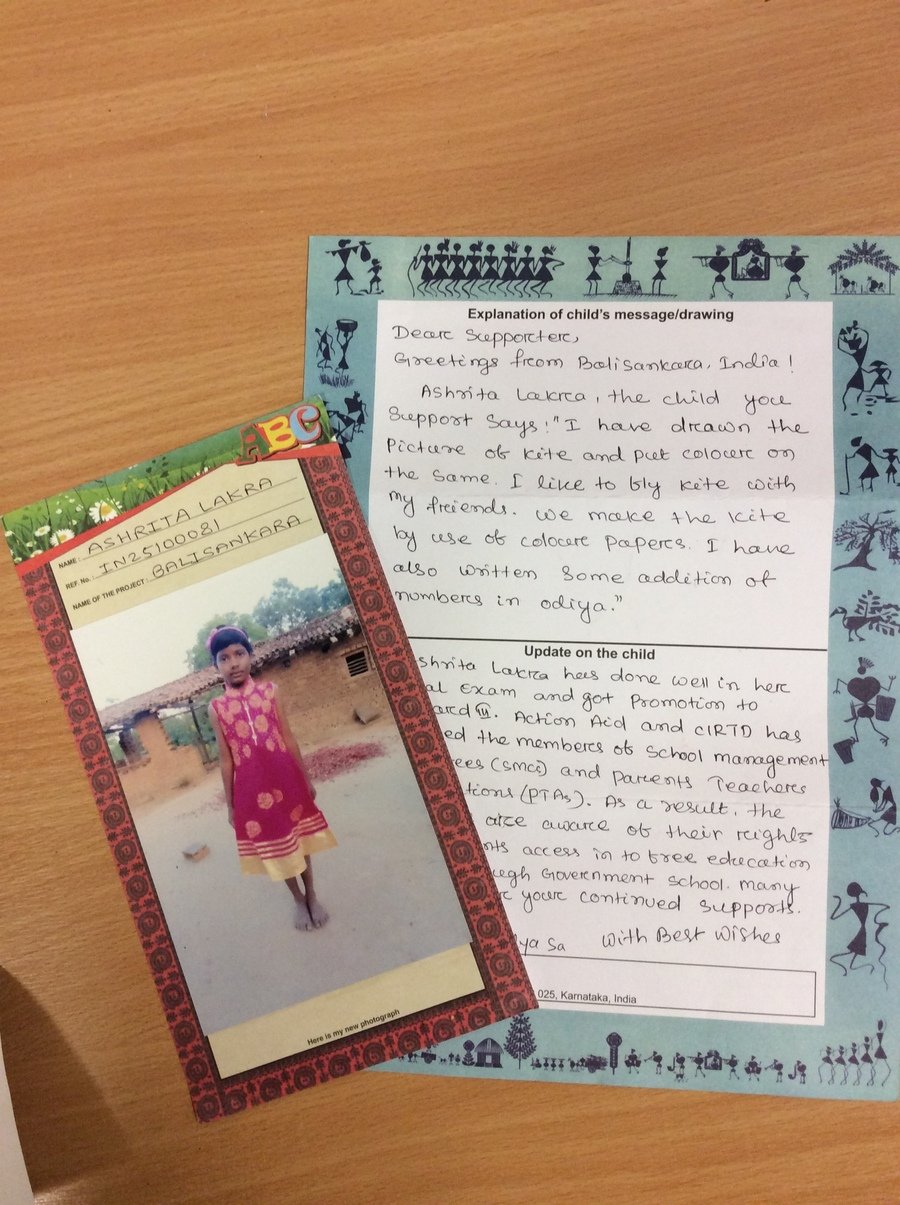 On Monday 11th June, twelve Year 3 children participated a very special event at All Saint's Church, Cleadon Village;- their first Holy Communion. The service was attended by the family and friends of the twelve children taking part, as well as the entire Year 3 year-group and their teachers. Click the picture below to find out more about this event.
On Wednesday 17th January the Church Council; plus representatives from Nursery, Reception, Years 1 and 2, were lucky enough to attend St. Mark's and St. Cuthbert's Anglican Church and visit the 'Knitted Bible'.
This year our Key Stage 1 Nativity was held in All Saints Church. The Year 2 children told the story of the first Christmas, our Year 1 children were the choir and the actors all came from EYFS.
Our Key stage 2 children visited All Saints Church in December for their Carol Service.
At this time of the year we say Thank You to God for the harvest. Key Stage 1 told the story of Jonny Appleseed. Key Stage 2 visited the church for a traditional harvest service and Reception performed the story of The Little Red Hen. Each act of worship was very special and contained some of our favourite prayers and hymns.
On Friday we were lucky enough to visit All Saints Church for our Easter service. Miss Merrin told the Easter Story and we sang our Easter hymns. Every child in Key Stage 1 made their own Easter hat of bonnet and we proudly paraded through the Village. Years 3 and 4 went to church on Tuesday and Wednesday to take part in the Easter Experience. We would like to say a big thank you to the parishioners who helped with this event.

We feel that it is important for our children to appreciate the true meaning of Christmas. During December everyone had the opportunity to access our Nativity themed Prayer Space. This gave us all a chance to think about the importance of the season.
Our Key Stage 2 children told the story of The Nativity through action and song. Year 4 took the part of the Nativity figures and the other year groups were the choir. It was a lovely service, with some of the best singing we have ever heard. Lots of our visitors commented on how beautifully the children sang.
On 13th and 14th December our Key Stage 1 children hosted a Nativity and Christingle Service at All Saints Church. It was a wonderful act of worship where the children showed the true meaning of Christmas through "The Wiggly Nativity". Our young actors were amazing, the narrators spoke clearly and confidently and the choir sang beautifully. We were especially pleased to see some of our visitors joining in with the songs! Everyone commented on how wonderful the service was and we feel that it was extra special this year as it was held in our Parish Church.
As you move around our school you will see many examples of our spirituality in classroom displays, Prayer Spaces and Reflection Areas. Please take some time to look through through our photographs.
You won't just find evidence of our R.E work in our exercise books. Each class has an R.E Scrapbook showing examples of class discussion, drama and art work.

Our Year 4 children visited St Paul's Church in Jarrow for the Deanry Schools' Advent Service. They took part in an act of worship which involved telling the story of the Jesse Tree. A branch is a sign of new life and new beginnings. Jesus was a descendent of King David and Christians believe that Jesus is this new branch.
A shoot will come up from the stump of Jesse; from his roots a Branch will bear fruit.
The Spirit of the LORD will rest on him-- the Spirit of wisdom and of understanding, the Spirit of counsel and of power, the Spirit of knowledge and of the fear of the LORD--
and he will delight in the fear of the LORD. He will not judge by what he sees with his eyes, or decide by what he hears with his ears;
but with righteousness he will judge the needy, with justice he will give decisions for the poor of the earth.
Isaiah 11:1-4 (NIV)
Our children were joined by Mr Falcus, the children of Jarrow Cross Church of England Primary and Whitburn Church of England Academy Choir to light the first advent candle. It was a wonderful service with each school making contributions to the story, adding symbols to the Jesse Tree and offering up prayers. The singing was uplifting and the whole afternoon was made extra special as it was held in these beautiful and spiritual surroundings.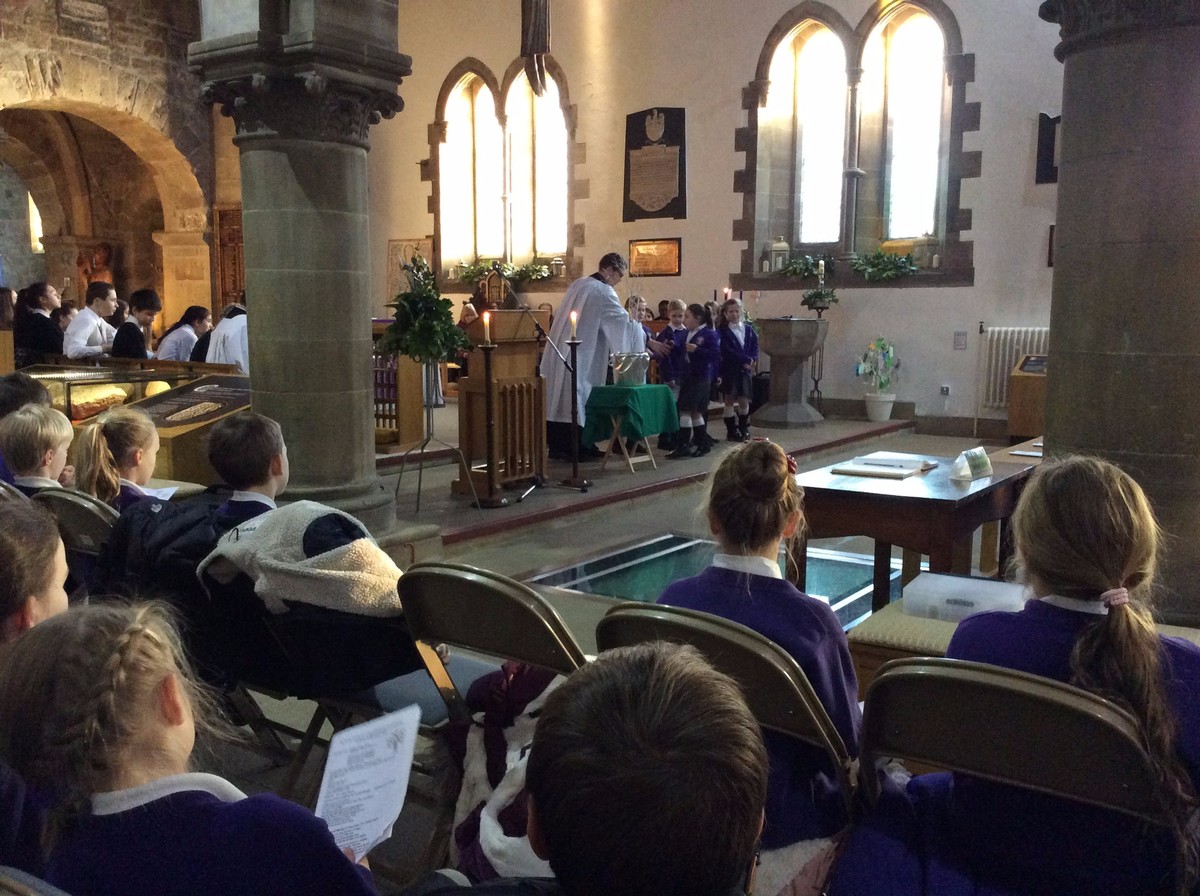 In October we held our Autumn Prayer Spaces event. We decided to focus on nature as an inspiration for our event. To read all about our day please click the Prayer Spaces logo below.
Harvest is a very special time in school. Through our acts of worship we thank God for all his bounty and think about those less fortunate than ourselves. Key Stage 1 presented the story of Handa's Suprise and Key Stage 2 visited All Saints Church for an afternoon song, prayer and reflection. Years 3 and 4 also visited the church to take part in a range of activities celebrating the wonder of Harvest time. We would like to thank everyone for their generous donations to our local food banks and for the money for Action Aid. We would also like to say a special thank you to the members of the congregation of All Saints Church for hosting a wonderful Harvest Experience.
We recently held a week long Prayer Spaces event at school. The children had access to 20 interactive activities to encourage reflection, spirituality and prayer. The event was a huge hit with both children and parents and was also visited by other schools and members of the local community. Click the icon below to view our Prayer Spaces page.
In KS1 we often use The Chatterbox to encourage the children to use discussion as part of their religious education.
We visited All Saints Church for our Easter Service. We all made our own Easter bonnets and learned some songs. Miss Merrin and Reverand Vernon lead the service and told us the Easter story. Click the link below to hear the story.
Our Key Stage 1 Nativity in 2015 was The Very Bossy Fairy. Through this story we learned the true meaning of Christmas.
We have close ties with All Saints Church and often visit to take part in services. Reverend Vernon also comes to school to lead whole school collective worship every Monday.
Each classroom has a reflection. This gives the children a opportunity to consider their beliefs and address their concerns for others. Reflection areas enable the children to offer prayers and to give thanks to God.
Year 2 have been thinking about the miracles of Jesus.
Foundation children listened to the story of Daniel in the lions den. Click on the lion below to read this story.
Year 3 made these 3D creation plates.
Year 5 have been reading the creation story. Click the link below to read the creation story.
Year 2 made these super Hanukkah pictures. Click the link below to learn more about his festival.
Year 4 designed and made their own icons and crucifixes.

Year 3 have been learning about the Islamic faith. To learn more about this religion click the link below.
Year 1 thought about the story of Daniel and the Lion. Click the picture below to read the story.
We wrote poems inspired by the thought of the Holy Spirit.

Year 2 learned about Durham Cathedral.
Year 4 made stained glass windows.

Year 2 designed a coat for Joseph. Click the picture of Joseph and his brothers to read the story.
Years 1 and Year 6 have been thinking about Judaism. Click on the Torah to learn more about this religion.
Our Foundation children learned all about Diwali. They made masks, clay diva lamps and colourful rangoli patterns. To watch the story of Rama and Sita click their picture below.
Our KS1 classes made a nativity. To watch a Key Stage 1 version of the Christmas story click the picture below.
Year 4 have been thinking about The 10 Commandments.
Year 6 created board games to teach children about Judaism as they play.
Year 4 designed and made their own crosses.
We wrote scripts and performed short plays based on popular bible stories.
We use our bibles and the internet to research.
We made our own advent calendars with pictures from the nativity behind each door.
We took part in a Seder meal. click the Seder plate to learn about this tradition.

We designed and made Purim masks and gregor shakers.To find out more about Purim click the link below.

Through weekly R.E lessons we explore the faiths through a variety of activities including art, music, role-play and poetry. R.E is a core subject and is firmly established within the curriculum.
Our Spiritual Garden is an ideal place for children to spend some time in quiet reflection. We often conduct our R.E lessons in this area.
In Foundation our role play area was turned into a church. We made our own stained glass windows and wrote prayers to display on the walls.
We recently hosted a Barnabus Day and invited other local church schools. The story of Easter was told through music, dance and acting workshops.
We gave thanks for the Harvest and told the story of the Nativity. We invited our parents to share in this act of worship with us.
Our Harvest celebration is lead by the children. This year they told the story of The Little Red Hen. The story reminded us of how important it is to share.
Key Stage two told us all about the nativity. Year 3 acted out the story.

Congregation members from All Saints Church held a Christmas workshop. Each member told a part of the Christmas story and used props and activities to illustrate the events.
We feel that it is important that our children can talk about religion and have the opportunity to have their opinions listened to and to listen to the opinions of others. In KS1 we often use The Chatter Box to facilitate the children's discussion.

Prayer is important to us. The children say a prayer during each collective worship and end the school day by giving thanks to God.
Foundation and Key Stage 1 Prayer
Hands together softly so,
little eyes shut tight.
Father just before we go,
hear our prayer tonight.
We are all your children here,
this is what we pray.
Keep us when the dark is near,
and through every day.
Amen
School Prayer
Thank You for each happy day,
in our school to work and play.
Please be with us all day long,
in every story, book and song.
May every loving thing we do,
make you our Father happy too.
Amen
To read Christian Bible stories click the link below.
To visit an Islamic website for kids click the link below.
To read Jewish stories click the link below.
The children of Newington CofE Primary School in Kent contacted our school with an idea regarding the Olympic Flame. They searched online for Church schools around the country near to the route of The Olympic Torch. As a school they wanted to send their prayers and good wishes around the country as The Flame progressed. They invited us to be part of a prayer cascade and wondered if we would carry on the idea after the Torch had passed through our community.
As the flame passes through each area the children will share their impressions and experiences and will send a prayer to the next school. We felt this was a lovely idea and welcomed the thought of a cascade of prayer to and from other Church of England primary schools.
This prayer came from Newington Primary in Kent
We pray for your community as the Olympic Flame passes through,
For all competitors training for the Games and their loved ones.
We give thanks for the privilege of hosting them and the thrill of watching.
Amen.

St Martins CofE School in Liskeard Cornwall.
We pray for your town as the Olympic Flame passes through.
We ask that it will leave behind a strong sense of your community coming together.
We pray that this will mean people feel safe, cared for and loved.
We thank you for the achievements of each of the torch bearers in their local areas.
Help us Lord to do our best for you and to serve you to the best of our ability in the place where we live.
This is our time to shine.
Amen
Cleadon Church of England Academy

As the Olympic Torch passes through your community ,

may its light shine into your lives

and enlighten your hopes, dreams and fortunes.

May you spirits be lifted by the magnificent splendour of the flame,

And allow it to fill you with hope and support

for those competing in the games this summer.

Let its love consume you with burning light,

but remember that no light is stronger than that of Our Father.

Through our saviour, Jesus Christ, Light of the World.
Amen