R.E in School
Here at Cleadon Church of England Academy we feel that it is extremely important to develop children's spiritual, moral, social and cultural identities. We have a strong Christian ethos which we feel is reflected in many aspects of school life. Children also have the opportunity to explore other faiths and cultures. R.E is a vital element in the schools enhancement of its Christian character. Worship is at the heart of our school and the children speak positively about the impact that this has on their lives. During an inspection by the Durham Diocese, one grandparent commented that the atmosphere at school is "like the open arms of Jesus welcoming you".
Dr Rowan Williams (prior Archbishop of Canterbury) explains that the ethos of church schools runs deep: "A Christian school is one in which the atmosphere has that kind of openness about it, that sense that people are worth spending time with, that people need time to grow, need loving attention. The Christian Gospel says that every person has a unique task to do, with God, and for God, whether they know it or not."It doesn't necessarily mean than everyone involved has to share the same theology or philosophy. It doesn't mean that everyone knows that they have this relationship with God, and is consciously working at it. But a Christian school is one in which the entire atmosphere is pervaded by the conviction that there is something mysterious, and potentially wonderful, in everybody."
Here at Cleadon Church of England Academy we are proud of our Christian Values and strive to be the best young people we can be.

Prayer Spaces
Prayer spaces enable children and young people, of all faiths and none, to explore life's questions, spirituality and faith in a safe, creative and interactive way. Each classroom has its own Prayer Space.
Easter Worship
The children in Key Stage 2 visited Church for their Easter Service. It was lovely to all be back together in Church with wonderful singing from all of the children. A special mention has to go to the Choir who performed exceptionally well in front of everyone.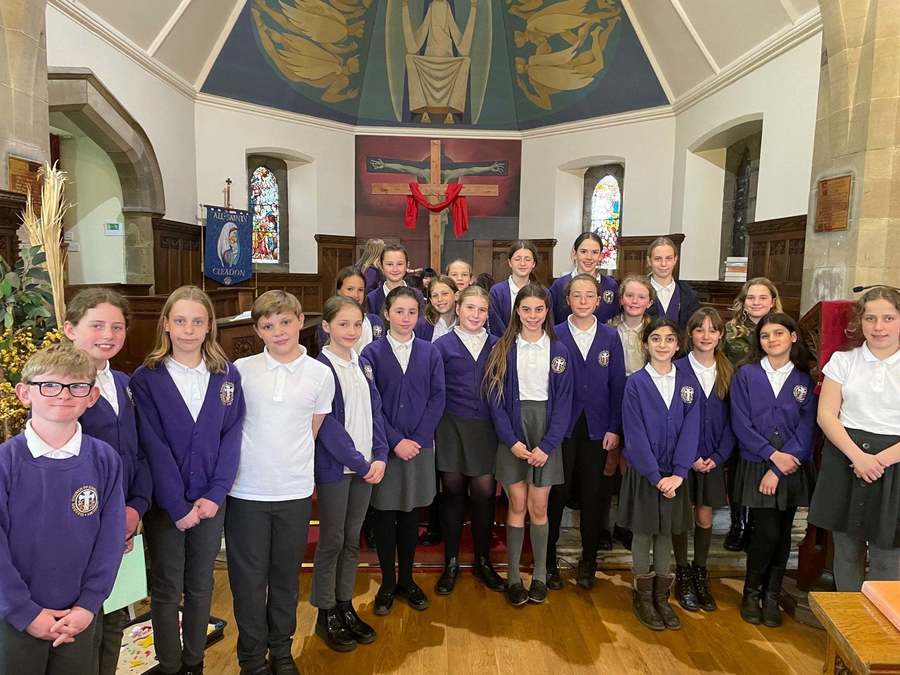 Year 3 joined members of the All Saints congregation for an Easter experience.
Prayers for the Ukraine
We live in a beautiful but troubled world. This week we send prayers to the people of the Ukraine.
This Prayer Space activity helps pupils to pray for the people who are risking their lives to offer help, support and protection in Ukraine e.g. medical staff, counsellors and carers, charity workers and other volunteers. This resource can be used at home or in schools.
Our Prayer Wall!
Children and staff are welcome to share their thoughts, feelings and prayers on our Prayer Wall. Some of our Year 6 children used it today, saying " Its a nice way to express how we are feeling."
Learning About Other Faiths
Here at school we enjoy learning about lots of different religions, including Islam, Hinduism, Buddhism, Sikhism and Judaism.
Our Spiritual Education
As you move around our school you will see many examples of our spirituality in classroom displays, Prayer Spaces and Reflection Areas. Please take some time to look through through our photographs.