Vision
Guided by our caring Christian ethos, we all work together to equip everyone with the skills, attitude, creativity and motivation to become happy successful lifelong learners and respectful global citizens.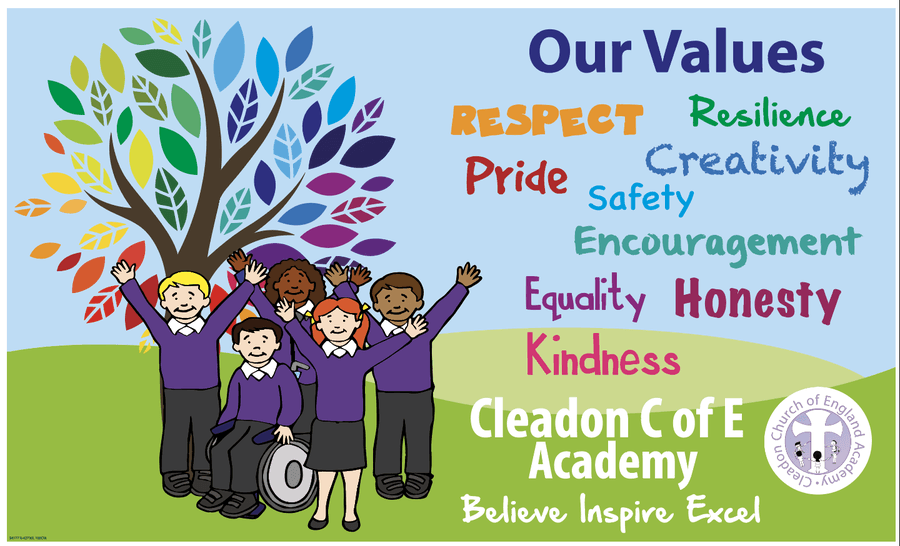 School Values
Prior to the Summer holiday, staff, children and Governors completed a task of looking at the School Values. We looked at the Mission Statement and values for the Trust and Academy and decided what values we wanted to have that the children could understand and could be lived out by everyone involved with the school in day-to-day life. Once this task was completed, we created displays for each classroom. There will also be a large-scale display appearing soon on the fence outside the main entrance. The children will learn about each value both in class and in Collective Worship over this term.
Values

We will bring our Christian ethos to life by:

Striving for excellence

· Setting high expectations,

· Showing pride, passion and self-belief,

· Encouraging forward thinking and embracing challenge,

· Promoting continuous learning,

· Recruiting the right people,

· Facilitating continuous improvement,

· Providing the widest range of opportunities to excel.

Achieving together

· Learning and working together harmoniously, within a supportive environment,

· Ensuring everyone is valued,

· Enabling everyone to have a voice,

· Promoting shared understanding and ownership, through collaboration,

· Sharing good practice, and celebrating success,

· Challenging ourselves and others,

· Supporting the communities in which we live and work.

Showing respect

· Promoting the wellbeing of all members,

· Recognizing everybody's contribution,

· Demonstrating courtesy and fairness to all,

· Embracing diversity and practicing tolerance,

· Celebrating the individual.

Inspiring success

· Nurturing achievement and celebrating success,

· Embracing inspiration and innovation,

· Encouraging self-motivation,

· Providing inspirational, creative teaching and challenge,

· Providing positive role models,

· Delivering a broad and exciting curriculum that engages and enthuses all learners.

Acting with integrity

· Maintaining professionalism at all times,

· Valuing honesty, trust and accepting accountability,

· Establishing transparent and effective communication,

· Listening and acting upon feedback,

· Ensuring collective care and responsibility.

This will be delivered within a caring, happy, safe and secure environment.