P.E and Sport
PE Vision Statement
In and through our PE our pupils will participate in a broad and balanced, challenging and competitive curriculum both in and out of school hours enabling their full potential.Pupils will be passionate and confident participants who will transfer their knowledge of healthy lifestyle choices into adult life.
At Cleadon Church of England Academy our aim is to ensure all children enjoy physical education and sport. Through physical education and sport we aim to improve health and well being, to promote active participation and lifelong learning and for each child to fulfill their potential.
Here at Cleadon Church of England Academy we know that healthy and active kids are happy kids which is why we are dedicated to sport and P.E.
Our EYFS children have loved their tag rugby sessions on the field.
Our Year 5 children are enjoying learning some netball skills during their PE lessons.
Year 6 have been practicing their tennis skills with Mr Gibson.
Well done to our girls football team today, they won one and lost one. The team played at Hebburn Comprehensive. Excellent team effort!
On Friday afternoon, 24 children across Key Stage 2 attended the cross country competition at Temple Park. All children ran exceptionally well and it was a great team effort! Cleadon Academy were the overall winners! We are so proud of them!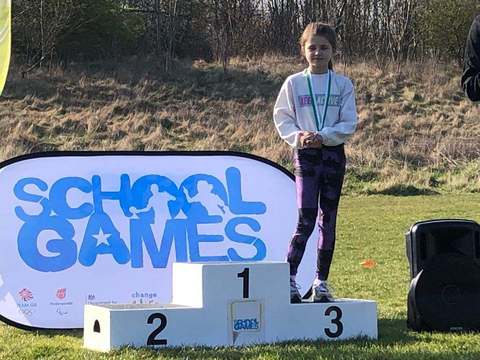 This half term Year 3 are learning to play tag-rugby with Mr Gibson.
Class 3X visited The Urban Factory where they took part in the Parkour Festival.
In Year 1 we have been practsing very hard on our ball skills with our coach Michael.
Our Key Stage 1 children have been learning some cricket skills.