School Council
We would like to welcome the members of our School Council. Mr Robb, Miss Taylor and Mrs Adams will be meeting with the children to discuss class inquiries, fundraising and school improvement. Each council member will have their own specialist area which they will take responsibility for. We have some very exciting plans, so watch this space for news, updates and photographs.
Friday 25th March - Ukraine Day
The School Council's Campaign to Support Ukraine

The School Council would like to raise donations to support the humanitarian work being done to help the people of Ukraine. After a very thoughtful and inspiring meeting to share ideas, the children decided that they would like to hold a non-uniform day with a yellow / blue theme next Friday (25th March). A voluntary donation of £1 for the Disasters Emergency Committee would be gratefully received. The Government have pledged to match donations to the appeal pound-to-pound up to £20 million.

There will be a range of activities throughout the day and every child in the school will bring home a sunflower seed in a small pot to grow at home. There will be a competition to share photographs of these sunflowers on Facebook and the school's website during the summer term. There will be prizes for the tallest sunflowers in EYFS, KS1 and KS2.

On behalf of the school council, I would like to thank you for your support.



MP Visit
The School Council children had a special visitor on Friday 11th March. Kate Osborn MP came to visit our school to speak with the School Council about her life as a serving MP. The children learned all about what inspired Kate to follow her chosen career path and how she supports other MP's and her local community. The children were very excited to meet her and asked lots of interesting questions.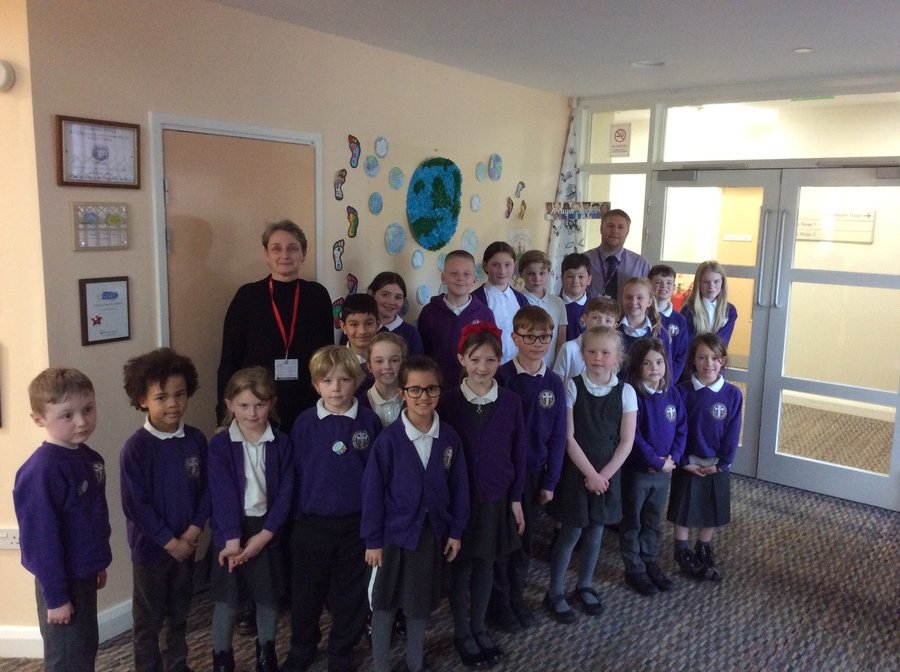 Health and Safety Checklists
Mrs Duffy has recently had a very special job for the School Council. She needed some help to create some health and safety checklists to use in the classrooms as she is our co-ordinator for the Right Respecting School Award. The lists needed to tie in with the articles below:
Article 6 - Every child has the right to develop to their full potential.
Article 19 - Every child has the right to be kept safe.
Article 24 - Every child has the right to the best possible health.
Article 28 - Every child has the right to education.
Mr Robb and the School Council members suggested that there should be a morning and and afternoon checklist and that there should be an identified Health and Safety Monitor in each class. The children then worked together with Mrs Duffy to decide on the checklist points. You can view the lists below.
The School Council set the children a challenge to support creating a new display for the newly named landmark house teams. They expected to choose one winner for each landmark for the display. The outstanding art work that was produced meant that we had to create a whole board for each team. Well done children!
Playground Equipment
The members of the School Council met with Mr Robb to discuss playground equipment. Each class had discussed what kind of toys and equipment they would like and passed their ideas onto the School Council members to be presented in the meeting. What kind of toys and equipment would you like to see in our yards?
Christmas Tree Challenge
Our Christmas 2021 celebrations started with a challenge from the School Council. They asked for photographs of the children's Christmas trees to brighten up our Face Book and website pages. As you can see by the photos below we have had a really good response. Twinkling trees and sparkling smiles, its beginning to feel a lot like Christmas!
Children in Need
In November we held our annual Children in Need Day. Our School Council members pitched their classes ideas for the theme of the day. There were some excellent suggestions! Mrs Gray agreed that we could have a pajama day in school.
We are pleased to announce that we raised a very impressive £566.08 for this brilliant charity! A big thank you to everyone who donated.
Cleadon's Got Talent
The first task for our newly appointed School Council was to help in the planning of Cleadon's Got Talent. Each council member attended the meeting and then passed on all of the information to their classes. They made a list of contestants and even attended some of the Auditions.