School Council 2016-2017
We would like to welcome the members of our 2016-2017 School Council. Mr Scott will be meeting with the children to discuss class enquiries, fundraising and school improvement. Each council member will have their own specialist area which they will take responsibility for. Mr Scott has some very exciting plans, so watch this space for news, updates and photographs.
School Council 2015-2016
Our School Council meets with Mrs Kellett on a regular basis. Each class has two elected representatives on the council. Their aim is to give each child a voice in the running of our school. The council members talk with their class and then feed back during their meetings with Mrs Kellett. Any suggestions are discussed and then the head of the School Council presents the ideas to Mrs Gray.
Our School Council members were proud to be the first people to try out our new high-vis vests. We would like to say a huge thank you to the charity Community Corner for their generous donation of over 150 personalised vests. Cheryl McDonald and her mum, Lynne Davis run a charitable organisation which aims to help the local community. The vests will help to keep our children safe on trips and outings.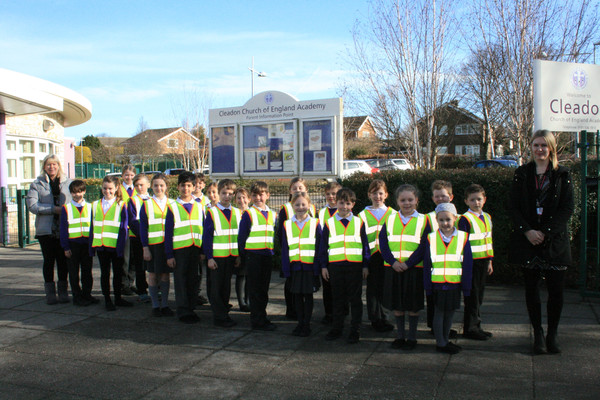 All the council members were very excited to visit to the Town Hall in South Shields. The children got meet the Mayor, look around the Mayors Parlor and the Council Chambers. They also had the chance to ask lots of questions. The gallery pictures below shows some of our School Council members at the town hall. Isaac and Amelia had this to say about their experience.

"School Council went to the Mayors Parlor. We took a tour around the Town Hall, through all the community rooms and into the Mayors living room. The building its self looked amazing from the outside and was also amazing inside. There were lots and lots of rooms to visit but some were working rooms so we could not go in them. We visited the council meeting room where there were lots of seats with desks and microphones. We also got a turn to sit in the Mayors chair and some of us got a chance to hold his chain. Everyone thought the chain would be really heavy but it was very very light! At the end of our visit we enjoyed refreshments of juice and biscuits. The Mayor was very generous and gave us some candy rock too! Over all we had a great time and hope we can return soon!"

One of the School Councils jobs is to organise fundraisers and charity events. In November the children worked with Mrs Tooley to hold a Children in Need day. They decided that the theme would be "Working in your Onesie" and that we would hold raffles and cake sales through out the day. The children designed posters, and planned the whole day. They even arranged for Pudsey Bear himself to visit!
The day was a huge success, thanks to the donations of parents and children and the hard work of Mrs Tooley and the School Council. Together we raised over £600 for Children in Need. Well done everyone!
In October we had a visit from Stephen Hepburn who is a member of parliament and represents Jarrow. He came to talk to us about how government works and to tell us a little about himself and his career. All the school council members had a question to ask. He was really nice and answered the questions in a nice clear way so that everyone understood him.