Lottery
Thank you to everyone who had joined our lottery. We have been able to order some lovely playground equipment thanks to the funds raised by the project.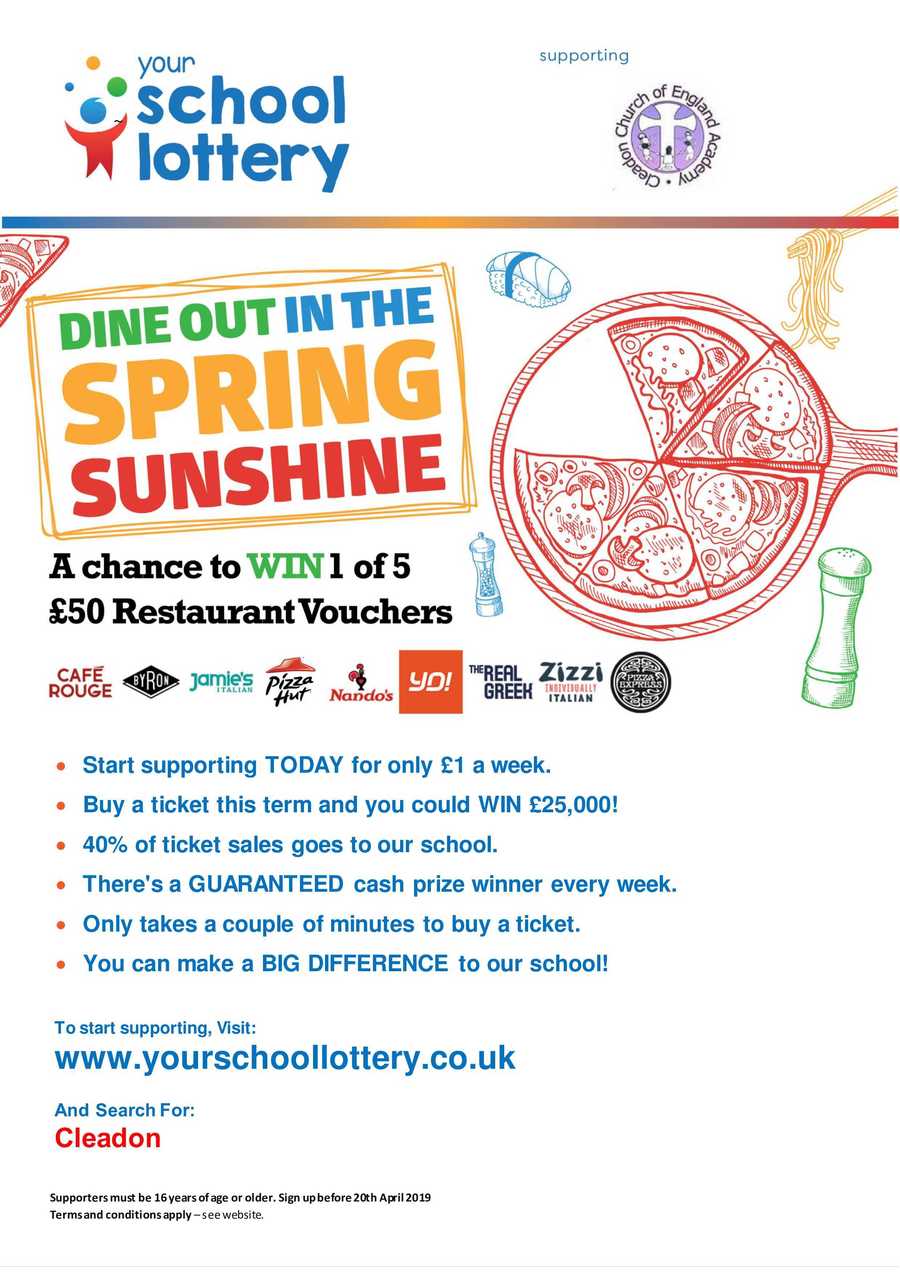 Green Tree Award
Last year we signed up to the Woodland Trust 'Green Tree Award'. The award has four levels: bronze, silver, gold and platinum. There are many activities available for us to do as a school and each time we earn points towards an award, In the autumn, we gained the silver award. So far, we have planted trees, Year 5 visited a wood and looked at it from different perspectives, held a Woodland Trust assembly, taken part in a name a leaf competition and tried to reduce the school's C02 emissions. This year we are going for the gold award! The award is a fantastic way to encourage children to engage with nature and outdoor learning.
Train to Teach Experience Day
Click the picture below to read our flyer about out train to teach day.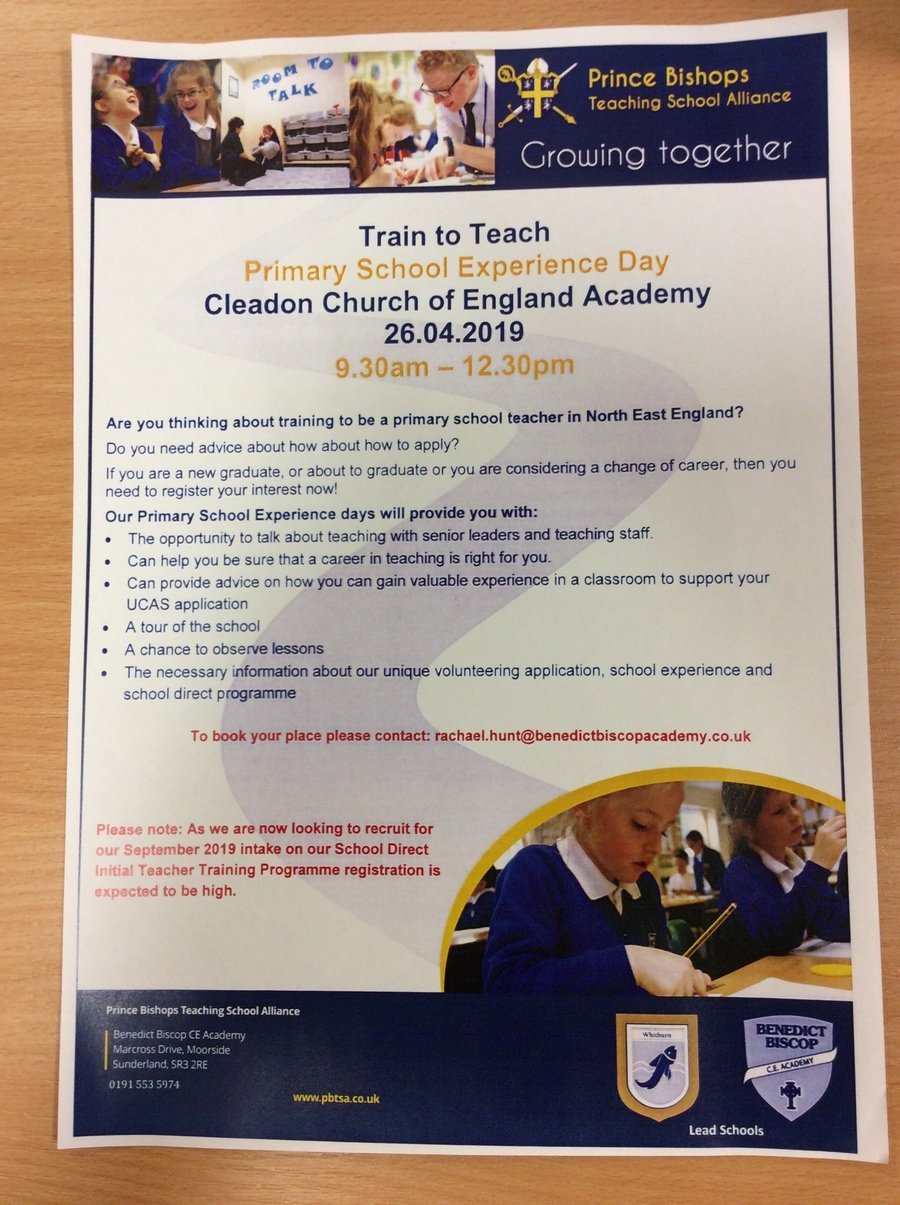 Walk to School Week
Our School Council and Mr Scott have planned a Walk to School Week. From 4th-8th we are asking our pupils and carers to make an extra effort to walk to school. The children will receive a badge for each day they complete the journey on foot and the class with the most children walking will receive a trophy at the end of the week.
The Knitted Bible
From the 11th to the 15th of February Cleadon Church of England Academy will be hosting The Knitted Bible. This amazing exhibition contains 33 knitted scenes depicting some of our best-known Bible stories. People of all ages will be able understand and enjoy them - and may discover some detail that they had forgotten or never noticed before - whilst learning more about God and his love for this world and its people.
We would like to share this fantastic exhibit with our whole school community and would like to invite you and your family to view this wonderful display between 3.15pm and 4.15pm (Monday-Thursday).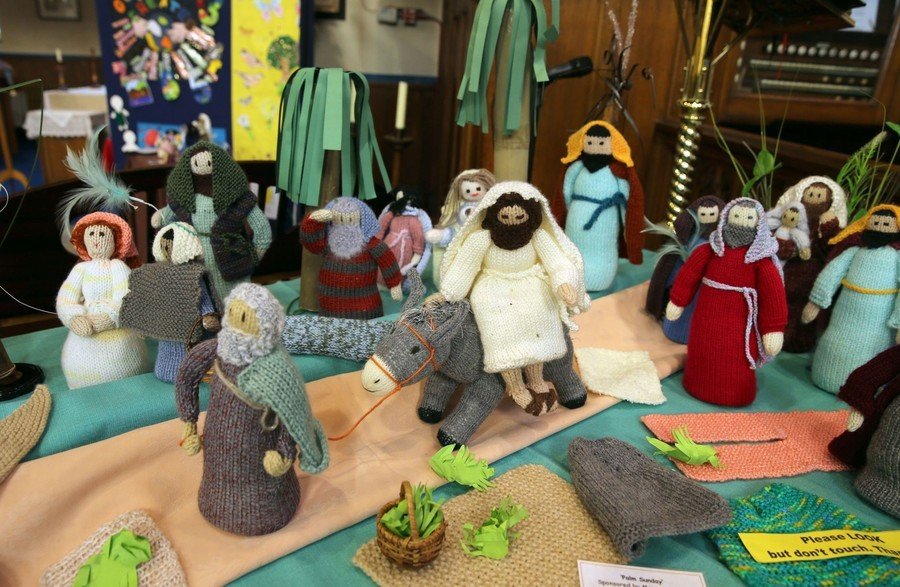 Hamper Raffle
Congratulations to J Robertson, H McLaughlin and J O'Brien, they were our lucky hamper winners! Thank you to everyone who bought a ticket for our hamper raffle. The money will join the other funds raised during our Christmas Fair.
Breakfast with Santa
On Monday and Tuesday we hosted Breakfast with Santa. Click on the picture below to view our Christmas Events Page.
MP's Visit
On Friday 16th November we were visited by our local MP Stephen Hepburn. As part of Parliament Week Mr Hepburn took part in a Q&A session with our Year 5 and 6 children.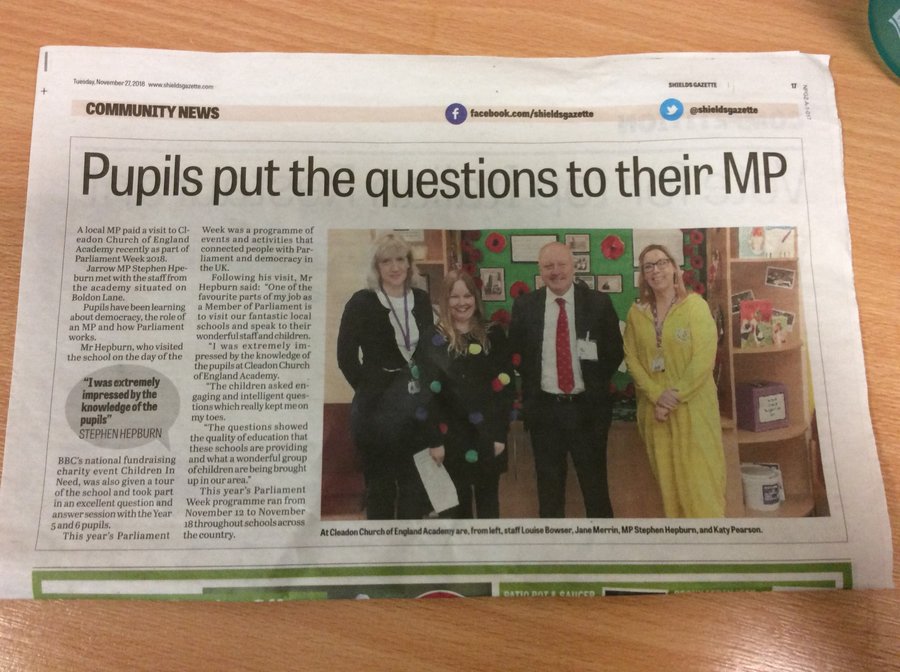 Christmas Colouring Competition
The Christmas Colouring Competition was as tricky to judge as every. Our office staff had a very difficult time deciding on the winners. Well done to Mia (Key Stage 1) and Olivia (Key Stage 2).
Our Field of Poppies
Did you spot us in the Gazzette last week? Click the poppies below to read all about our Remembrance Day event.
Our Christmas Coffee Afternoon
We will be holding our Christmas Coffee Afternoon on Thursday 22nd November. We would welcome donations of:
Books, games, toys and DVD
Teddies and soft toys
Tombola/raffle prizes
New/nearly new items
Bottled items
If any family members are able to volunteer to help at the Coffee Afternoon, we would be most grateful. Please contact the School Office if you would like to be involved. We would also like to challenge the children to create treat jars to be sold at the Coffee Afternoon. These were a great success at the Summer Fair. We are holding our Christmas Colouring Competition this week and colouring sheets will be available during playtime at a cost of 50p each.
Anti-bullying Week
On Monday 12th November we launched our anti-bullying event in school. The children were invited to wear odd socks to show that they understand that everyone has the right to be different and that everyone is special and unique (just like the odd socks!) In class we have designed our own odd socks and have created anti-bullying posters. We have also been following the antics of Andy and the Odd Socks, we love their song about respecting other people. They wrote it especially for Anti-bullying Week 2018. Click the socks to hear the song.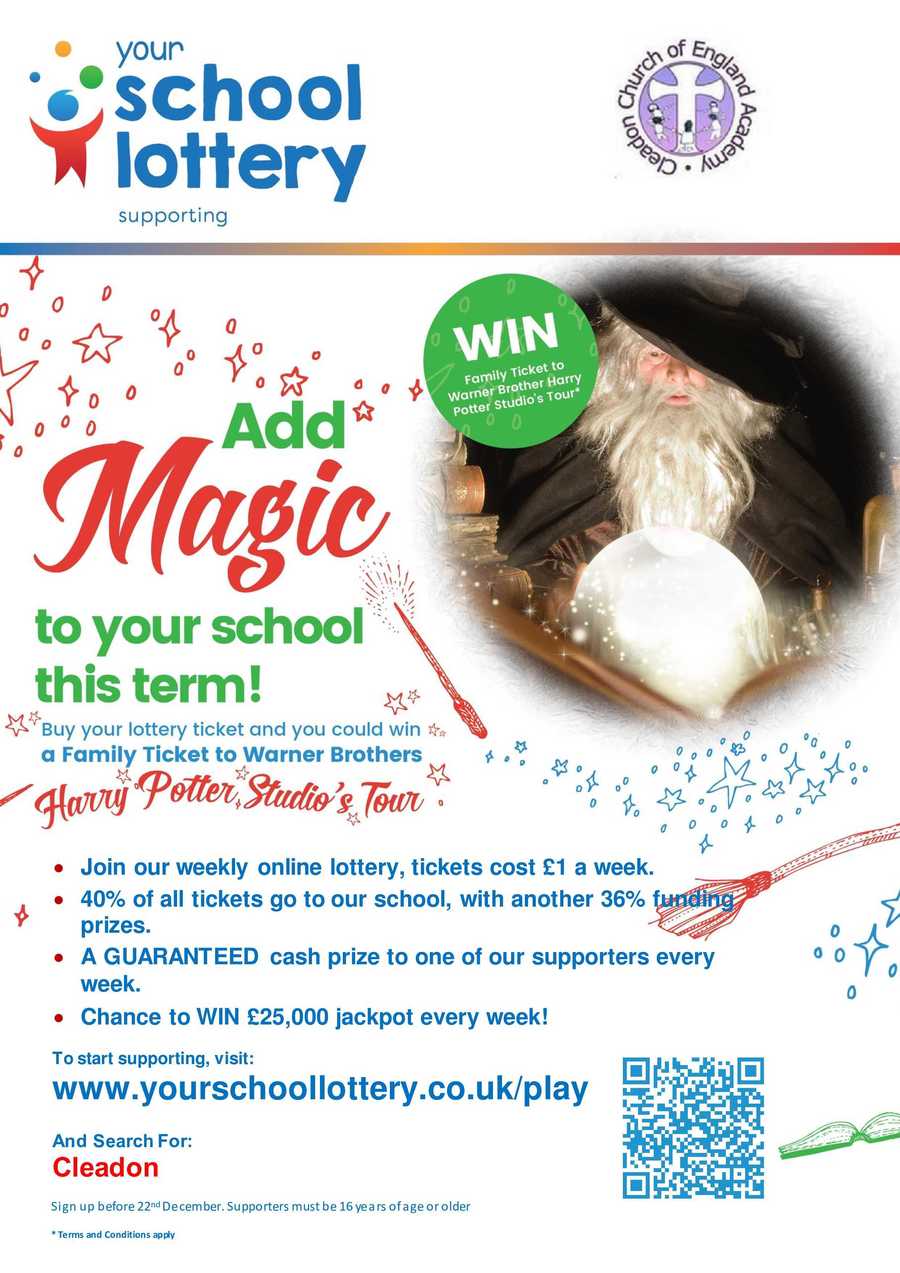 Phonics Screening
We were thrilled to receive this letter regarding our 2018 Year 1 Phonic Screening Check.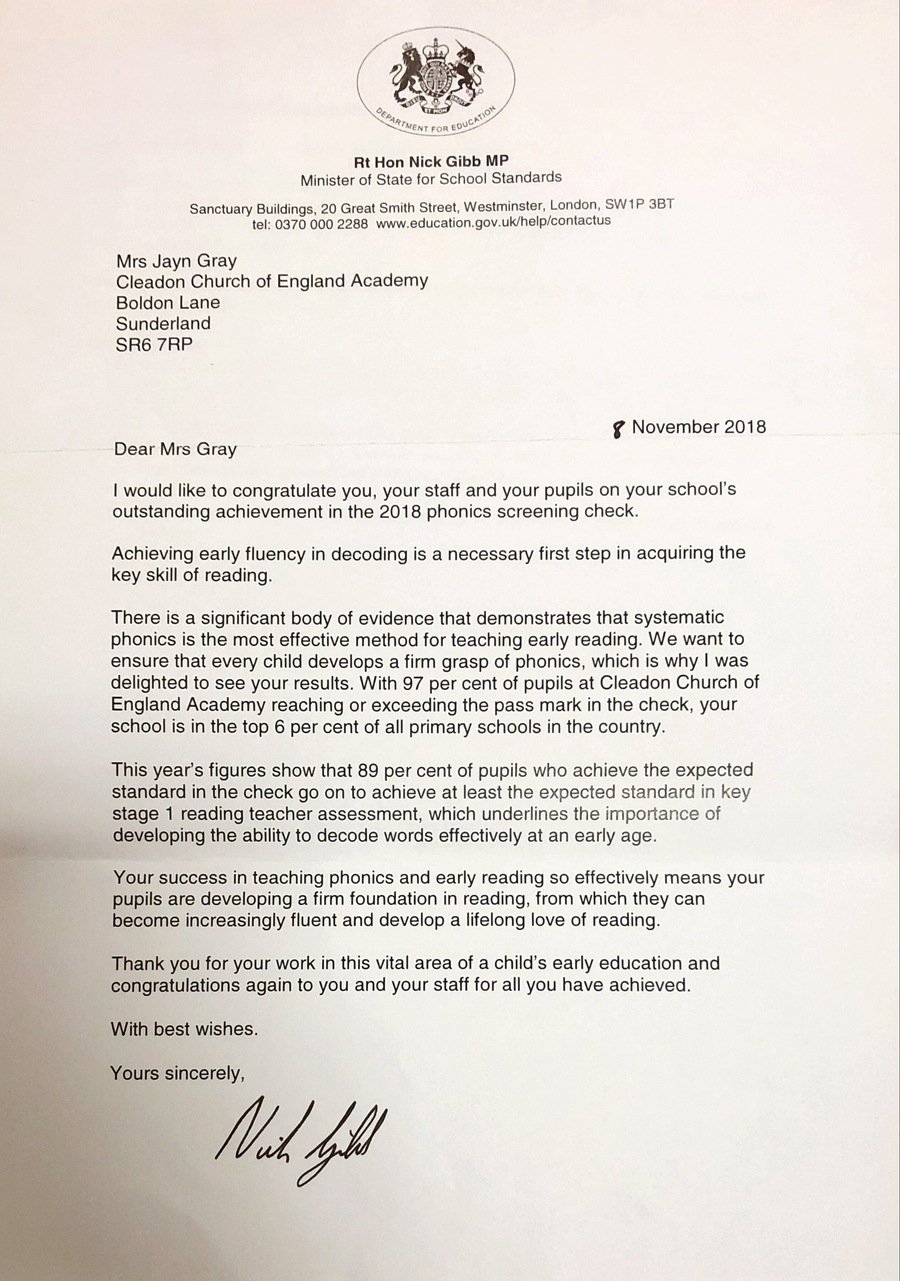 Enrichment
Our Enrichment Afternoons aim to encourage exploration, creativity, healthy lifestyles and learning. The cross curricular activities focus on the children having fun and just enjoying the moment. Through play, investigation, exercise and relaxation we aim to enrich the education of the whole child and promote well-being for every member of our school community.
This half term we are trying a range of activities from sports and games to food technology and mindfulness to computing. Mrs Oliver is working on team work and Mrs Williamson is teaching our Key Stage 2 children some B.S.L (British Sign Language).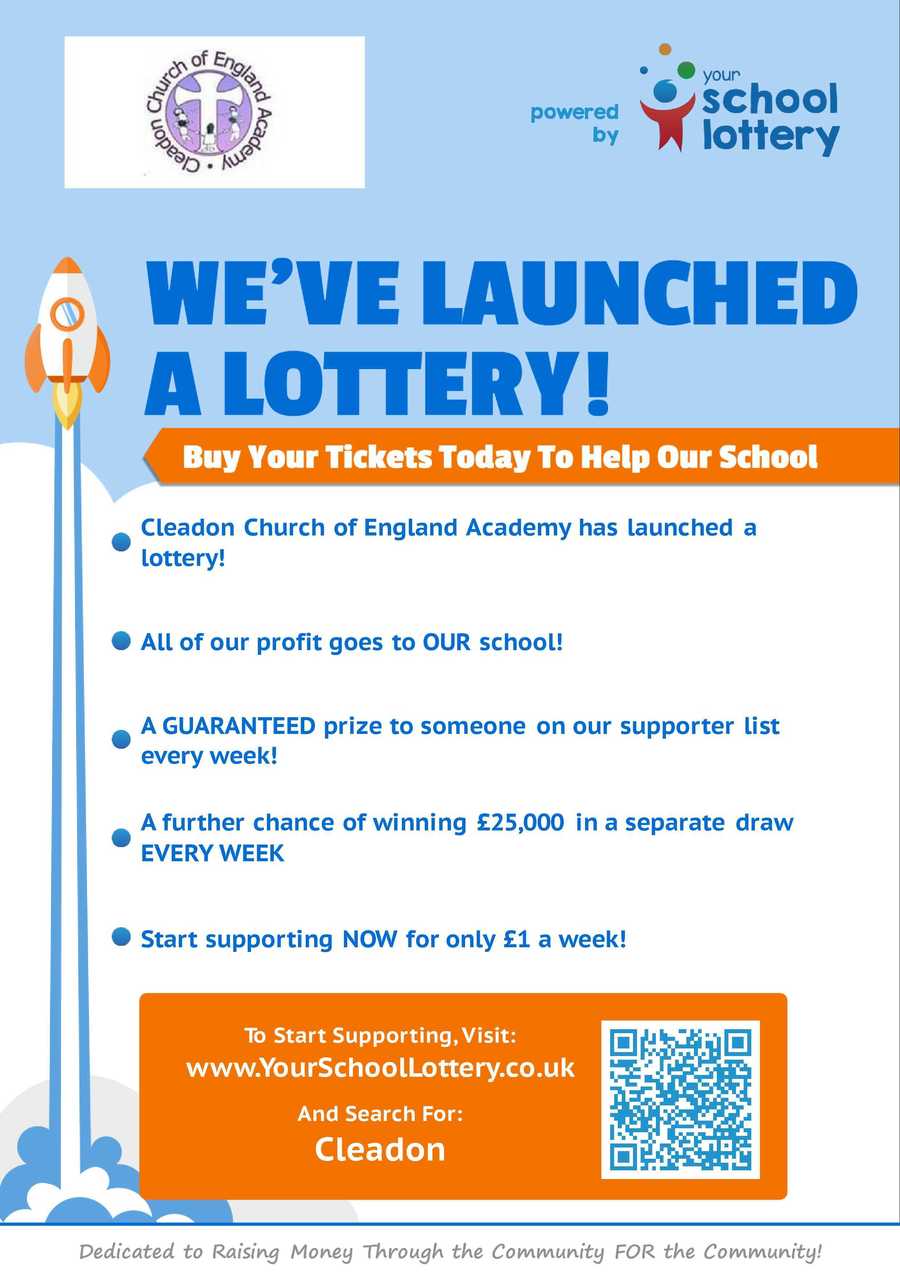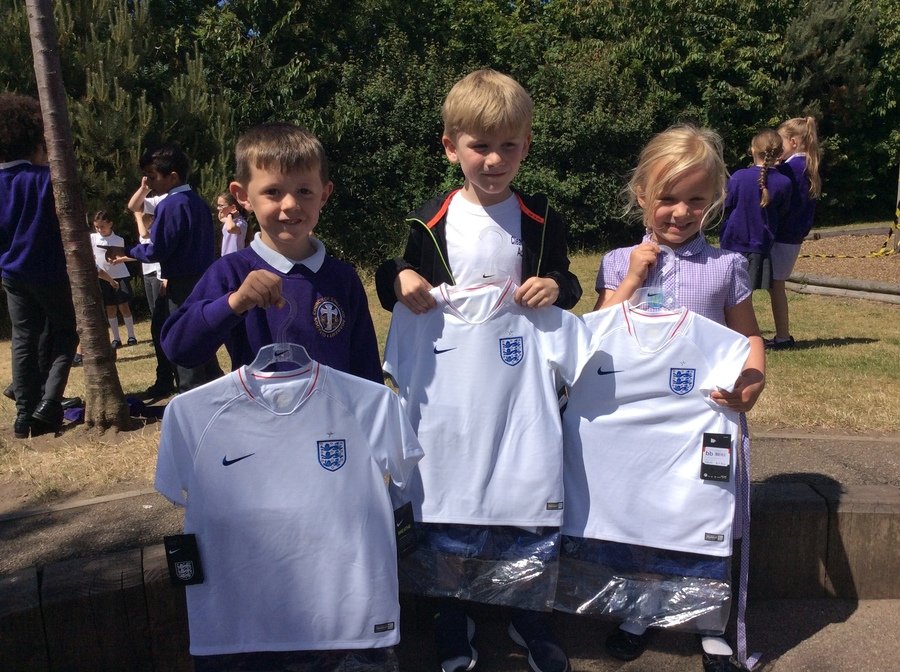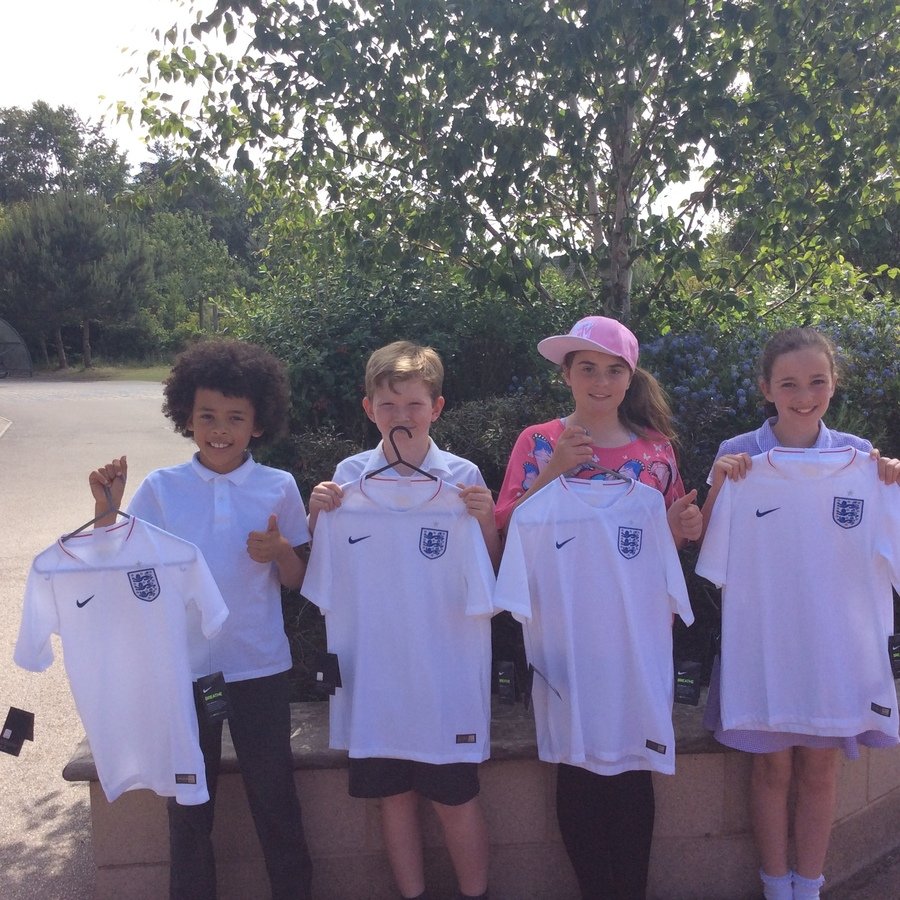 World Cup Event
Can we just thank everyone who raised sponsor money. Between the football event, the healthy hamper and the money raised on the Sports Day Refreshment stall we have raised over £4000!
Well done to G.Peralta, Jake's grown-up, M.Richards and N.Errington for winning a bottle of wine in the parents football skills event.
Holy Communion
On Monday 11th June, twelve Year 3 children participated a very special event at All Saint's Church, Cleadon Village;- their first Holy Communion. The service was attended by the family and friends of the twelve children taking part, as well as the entire Year 3 year-group and their teachers.
To read more about this event click here.
Sponsored Event
Our sponsored football event was a huge success. Can we please ask for sponsor money to be returned to school by Monday 18th June.
World Cup Event
On Thursday 7th June we will be holding a World Cup Event in school. We are inviting the children to wear their gym clothes and take part in a day of football fun! We will be running a sponsored penalty shoot-out, a ball skills session and a World Cup sweepstake as well as a range of World Cup themed activities throughout the day.
We are asking the children to collect sponsors/donations for this event. The person who raises the highest amount in each year group will receive an England shirt!
Royal Wedding Celebrations
On Friday 18th we held a Royal wedding celebration in school. The children were invited to come to school dresses in their best wedding outfits and they took part in lots of themed activities throughout the day. Check the Gallery page for our wedding photos. The children had a fantastic day and our Royal banquet was served by some very familiar faces! Click here to go to the Gallery page.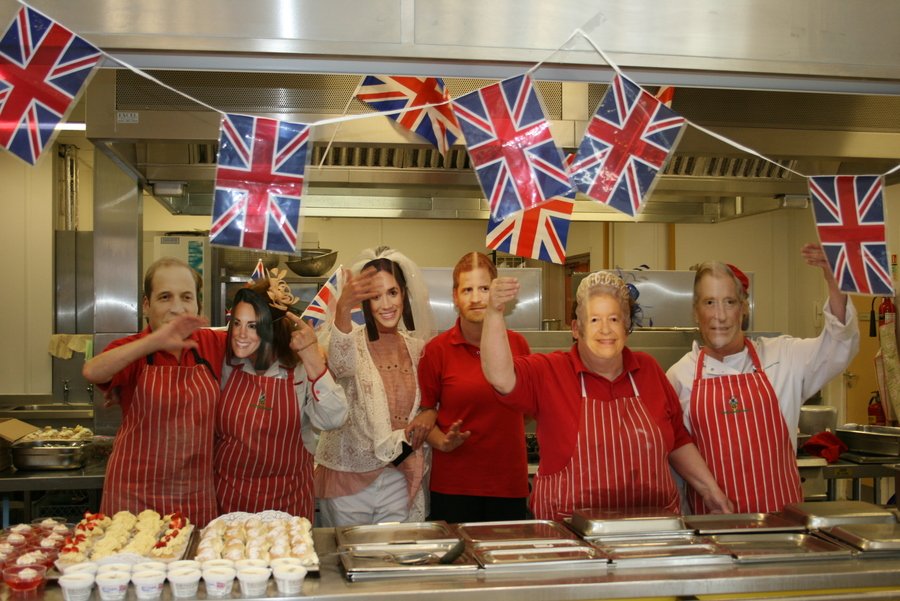 Bike Safety
Our School Council have been looking at how our children travel to school. They were very impressed by how many people rode a bike or scooter to school. However they noticed that lots of children do not wear a bike helmet when traveling to and from school. As a group they put together a presentation about bike and scooter safety, focusing particularly on the importance of wearing the right safety equipment. During Worship time they presented their findings and appealed to all of the children to wear their helmets.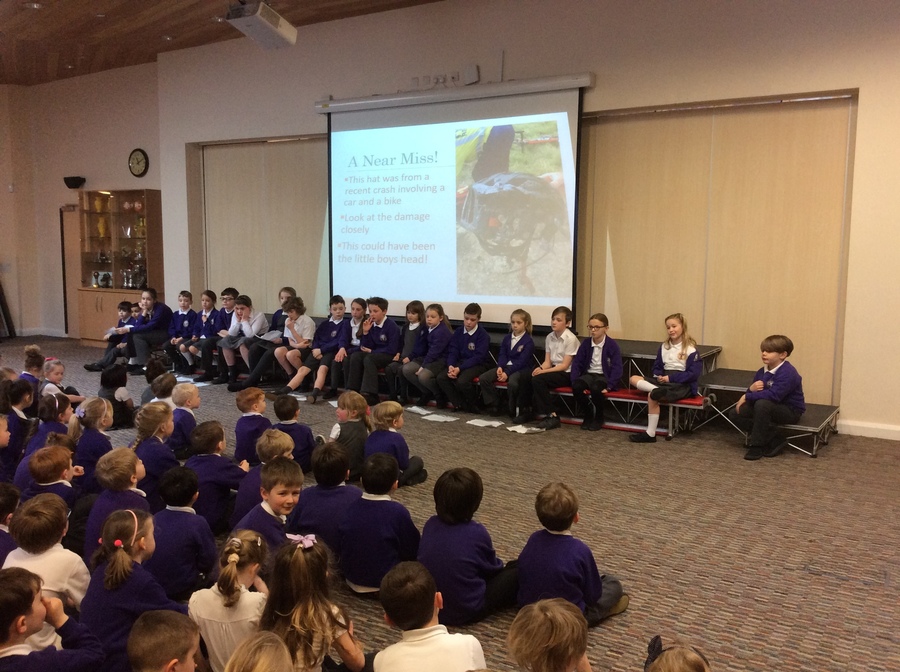 Careers Day 2018
Our Careers Day on Wednesday the 21st March was an exciting morning for our Year 6 children We were joined by pupils from Marsden, Benedict Biscop and Ridgeway school. As always we were very grateful for the parents and friends of our school who give up their time. Their presentations were both engaging and informative. We were lucky enough to have a wide range of occupations from pharmacists to architects, engineers to beauticians ,and vets to florists. All the children enjoyed the opportunity to gain first-hand experience from our guests.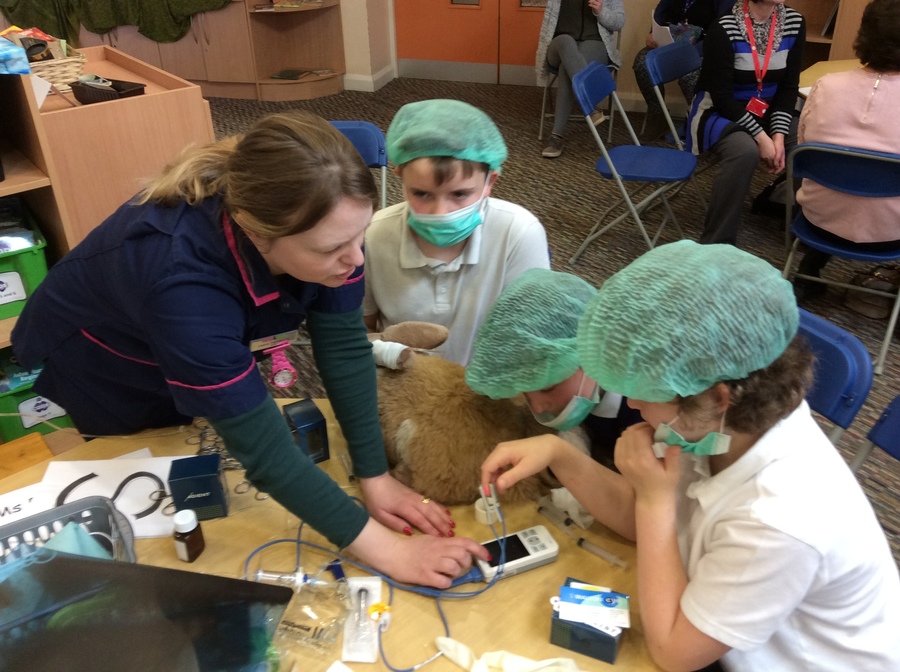 Mini-Medics
Some of our Year 6 children are taking part in the Mini-Medics scheme. They are learning basic life saving skills and have had the opportunity to practice CPR using the training dummies.
Spring Sing @ the Sage
A group of year 3 children joined voices with other schools from South Tyneside and Gateshead to celebrate music from around the world. We even made spring themed hats for the occasion! After a singing workshop, led by a vocal coach from the Sage, it was time to entertain an audience of family and friends. All the children sang brilliantly and thoroughly enjoyed the experience.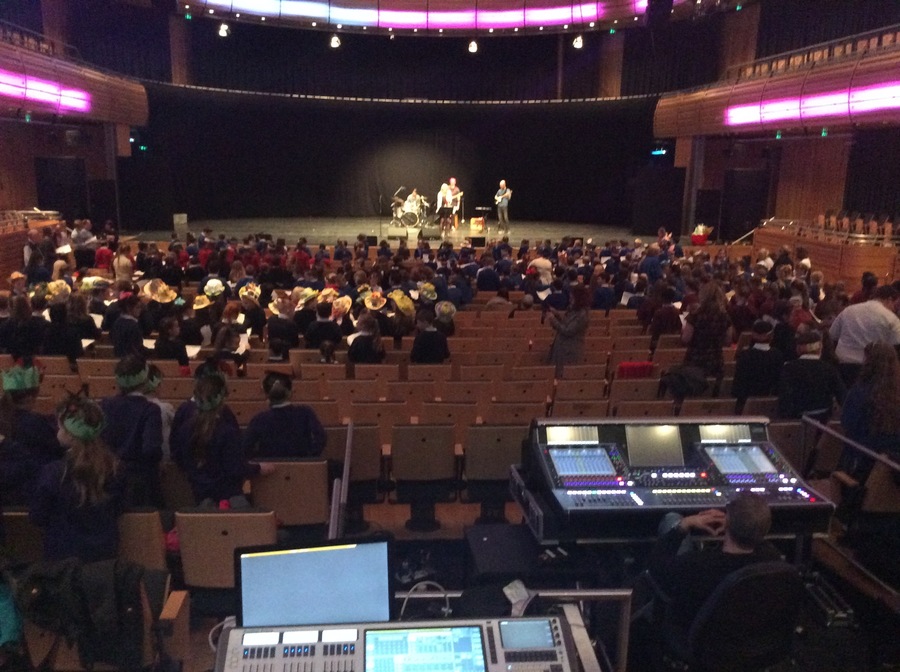 Photo Competition
Can we just say a huge thank you to all the people who have already submitted entries for our school calendar. We are so impressed with the level of creativity and the quality of the photographs. Here are some of the submissions, can you spot any familiar sights?
N.S.P.C.C Big Buddy Workout
This term we took part in The Big Buddy Workout to raise funds for the N.S.P.C.C. Together we raised a massive £3219.00!!! Well done everyone!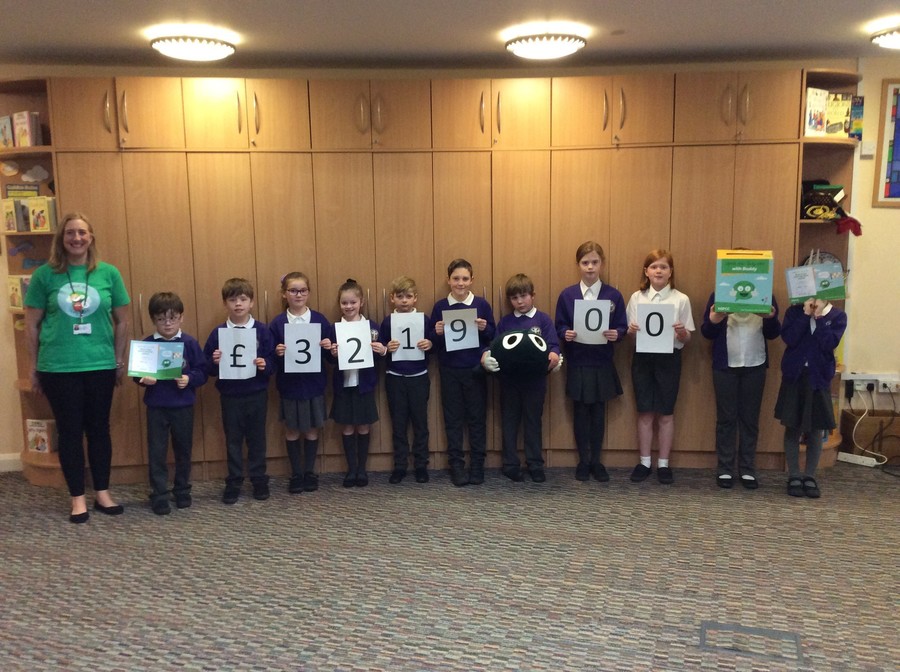 Archery
Our Year 5 children were thrilled to be able to take part in some archery coaching.
Balance Bikes
This half term our Year 1 children are taking balance bike lessons with the Bikeability scheme.
Christmas Coffee Afternoon Winner!
On Saturday 27th January, a lucky raffle ticket winner attended the Sunderland vs Hull City match in an executive box. The game ended 1-0 and a great day was had by all. We would like to thank Adient who donated the prize.
Knitted Bible
On Wednesday 17th January the Church Council; plus representatives from Nursery, Reception, Years 1 and 2, were lucky enough to attend St. Mark's and St. Cuthbert's Anglican Church and visit the 'Knitted Bible'.
Our Nativity
Our Key Stage 1 Nativity was a huge success. The photo gallery below is of our Y Classes.
The gallery below shows pictures from the X Class Nativity
While we were at church we shared the story of the Christingle. Christingle celebrations are named after the Christingles that are lit during the service. Christingles are made from an orange decorated with red tape, sweets and a candle. Find out more about the meaning of each element of the Christingle below.
Each piece of the Christingle holds special symbolism to help children understand the importance of Jesus and the Gospel, and its relevance at Christmas time.
The orange represents the world

The red ribbon (or tape) symbolises the love and blood of Christ

The sweets and dried fruit represent all of God's creations

The lit candle represents Jesus's light in the world, bringing hope to people living in darkness
Breakfast With Santa
On Monday and Tuesday we had a very special visitor join us for breakfast.
Reception Open Day
Please join us at 10am and 2pm for our Reception Open Day on 29th November.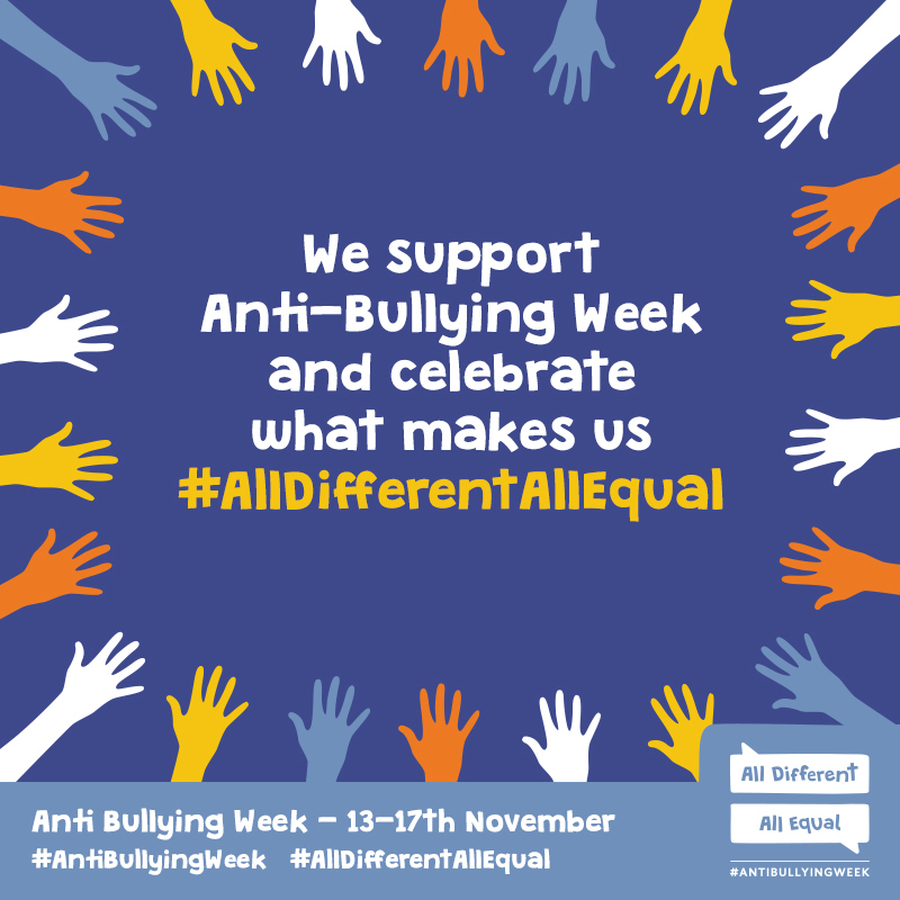 Mystery Boxes
Today we received our first Mystery Box!! We wonder what it has inside?
This year for our Christmas Coffee Afternoon we are asking the children to create small wrapped Mystery Boxes. These will be sold for £1 at the event. The boxes can contain one gift or a selection of small treats. Please specify whether your Mystery Box contains boy/girl/unisex items and what age it is suitable for. Remember that the items can be pre-loved as long as they in "as new" condition. Boxes can be wrapped in Christmas wrapping paper or decorated in a Christmas theme. Please bring your mystery boxes into school by 17th November.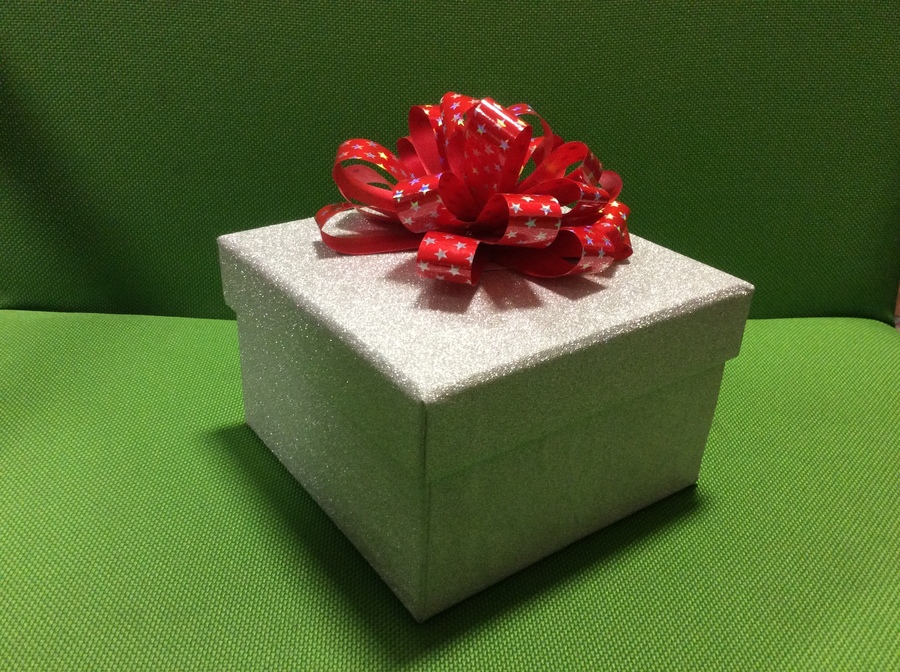 Space Projects
Year 5 have been very busy with their space projects. On Wednesday 18th October they all gathered to share their creations.
Official Nursery Opening
On Monday 16th October, the Right Reverend Paul Butler, the Bishop of Durham, officially opened Cleadon Church of England Academy Nursery. Mrs Tooley kindly invited the children from Key Stage 2 Church Council to join the Nursery and participate in the official opening. The older children worked with the younger children as Bishop Paul moved around the Nursery, talking to the children. After the Church Council had played with the children, the Nursery children performed 'Dingle Dangle Scarecrow' for Bishop Paul and we sang along. The Bishop cut a purple ribbon outside to officially open the Nursery. Mrs Atchison had baked an amazing cake with the School crest on the top. We all enjoyed a piece of cake. It was absolutely delicious. Bishop Paul said a prayer, blessed the Nursery and all of the children and grown-ups who work there. The Church Council said 'It was the best day ever!' and wished that they could go to that Nursery when they were younger.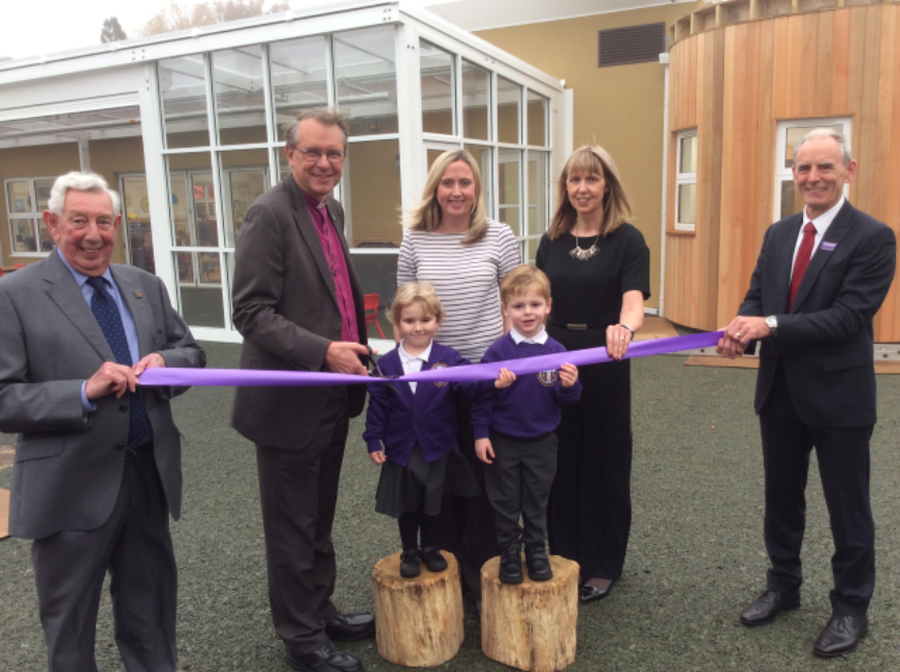 RAP Workshop
Our Year 6 children were given the opportunity to attend South Tyneside's RAP workshop. The overall aim of the event is to raise children's awareness of the hazards associated with play and to increase knowledge of what can be done if an accident occurs. Research shows the majority of accidents experienced by 10 and 11 year-olds happen when they are playing and on the roads. As a result, 459 children die from accidents and a further one million are injured in the UK every year. This scheme aims to teach the children how to identify hazards, how to make good choices and what to do if an emergency does occur.
Harvest
It is at this time of the year that we say Thank You to God for the harvest. Our Key Stage 1 told the story of Johnny Appleseed. Key Stage 2 visited the church for a traditional harvest service and Reception performed the story of The Little Red Hen.
Germ Awareness
Year 1 worked with some of our local NHS staff to raise their awareness of how to stop germs spreading.
Give Racism the Red Card
Year 6 visited the Stadium of Light to take part in Give Racism the Red Card.